Sustainable poultry farming
The effects of consuming poultry products on the environment and its mitigation strategies
Due to an increase in demand over the past 100 years, animal food production has increased. To fulfill the growing need for a cheap and secure supply of meat and eggs, the poultry industry has made enormous technical advancements over the past few decades. India's poultry farming industry has grown dramatically over the year and becoming a thriving sector of the agricultural economy. As per the 20th Livestock Census, the total poultry in the country was 851.81 Million in 2019, increased by 16.8% over the previous Census.Tamil Nadu, Andhra Pradesh, Telangana, and West Bengal are the top states with poultry farms, followed by Maharashtra, Karnataka, Assam, Haryana, Kerala, and Odisha.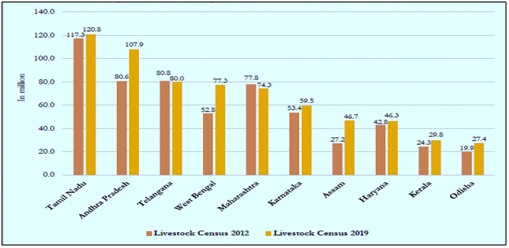 Figure 1: Poultry population of major states of India in 2012 and 2019. (Source: 20th Livestock census)
Impacts of poultry farming on global and local environment
The effects of poultry production on the environment can have an impact on both local and global scale. Feed production, energy use, and manure management are the three main causes of the environmental effects connected with chicken farms. The increased usage of concentrate feed, especially grains and soybean meal, has contributed to the outstanding performance of the chicken industry over the past three decades. However, this increased feed production has led to an increase in agriculture at the expense of forestland (deforestation). Regarding the poultry farming activity, the potential impact on environmental factors refers to ammonia emissions to air, nitrogen and phosphorus leaks from manure into the soil, groundwater and surface water. One of the most importantissuesof environmental concern is water pollution near poultry houses. There have been allegations that pesticides are used to manage pests and predators pollute groundwater and surface water. Poor disposal of poultry carcasses can make water quality worse, especially in areas that are prone to flooding or have a low water table.
Sustainability: How is the chicken industry reducing its negative effects on the environment?
Sustainability in the chicken industry refers to using land, water, and feed resources responsibly. The chicken industry has been able to considerably minimize the consumption of water, farmland, electricity, greenhouse gases and other vital resources by continuously innovating and by guaranteeing the highest possible bird health.In fact, producing the same amount of chicken today as 1965 has 50% less impact on the environment (NCC, 2020).Chickens are the most efficient converters of feed into meat of all land-based livestock species due to several key factors like: traditional breeding, nutritious feed tailored to each stage of a chicken's life, better living conditions through climate-controlled barns and new technology, and protection from extreme temperatures, predators and disease, up-to-date biosecurity practices and veterinary oversight. Because of all of these reasons, chicken consumes less feed and water to reach market weight, reducing its environmental impact. In addition to that, to promote a healthier earth, the chicken industry is dedicated to environmentally sound and sustainable chicken production methods.
Responsible use of poultry litter and manure: a sustainable nutrient loop
In fact, the litter from chickens is not a waste. Rather, it is a very important agricultural input resource. It is a closed, sustainable nutrient loop where plants feed the chickens and chickens fertilize the plants. Poultry manure contains all 11 of the essential plant nutrients that are used by plants. All or part of the plant needs may be met by using poultry manure as fertilizer. As the main source of nitrogen, chicken manure is a crucial raw material for composting mushrooms as well as for the composter. It also contains a tonne of fascinating nutrients and degradable carbohydrates for the nourishment of compost. Additionally, poultry manure contains a variety of bacteria and other microbes that are good for composting.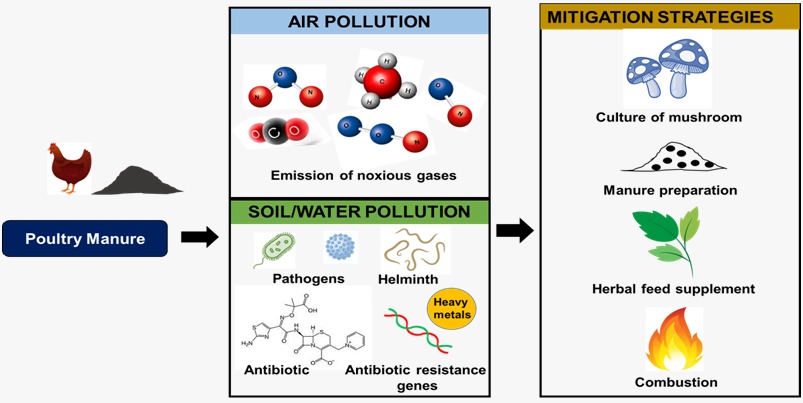 Figure 2: Management of poultry manure to lessen its environmental impact (Mukherjee and Haldar, 2022)
Conclusions:
The necessity for precise environmental impact evaluation together with workable solutions is now being adapted due to the push for more sustainable food systems and the urgent need to lower the environmental footprint of the food we eat. The chicken industry has been able to considerably minimise the consumption of water, farmland, electricity, greenhouse emissions, and other vital resources by continuously innovating and by guaranteeing the highest possible bird health. We must apply new thinking, new technologies, and new business models to create a more sustainable animal protein industry for the whole planet to feed 9.7 billion people by 2050, sustainably and responsibly, and within our planet's boundaries.