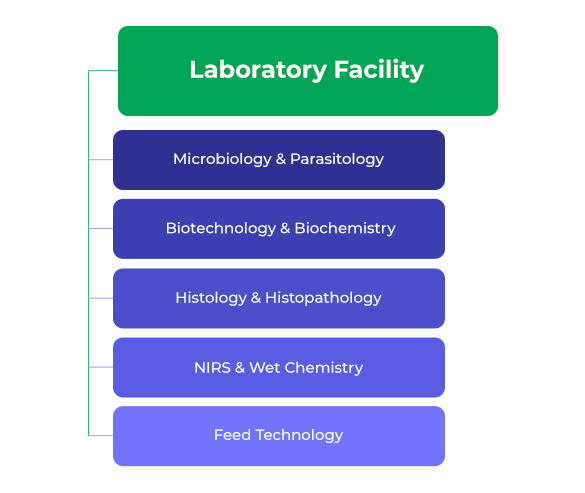 Agrivet has a state-of-the-art Laboratory Service for the livestock industry of the agroclimatic zone of eastern and north eastern India to address the increasing demand of precision formulation, healthcare and management.
East Indian States like West Bengal, Bihar, Jharkhand, Odisha and North Eastern states along with countries like Bangladesh, Nepal, Bhutan and Myanmar will get benefit out of this sophisticated, high end, well managed dedicated lab for livestock industry.
With the growing awareness on input standardization, advancement in feed manufacturing technology and subsequent influx of overall animal husbandry production, it is pertinent to support the industry with this noble project.
Agrivet Laboratories: Infrastructure
Highly bio-secured laboratory environment

Uninterrupted power supply to enable flawless precision reports of longer duration test protocols

Dedicated resources for each lab to prevent cross contamination

Laboratory Tests are carried out with the help of modern high-end precision instruments

In-house experts to validate the test findings

Sample preparation and logistics guidance is facilitated on request

On demand sample collection facility

Complete animal health and nutrition laboratory services under one roof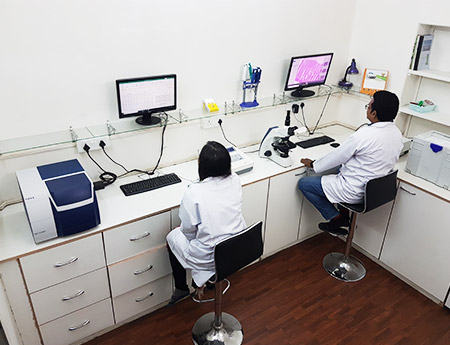 Agrivet Laboratories: Equipment
| Equipment | Make | Equipment | Make | Equipment | Make |
| --- | --- | --- | --- | --- | --- |
| NIRS Analyzer | Foss DS 2500 F | NIRS Sample Grinder | Foss CT 293 Cyclotec | Automatic Pellet durability tester | Tekpro Holmen NHP200 |
| Automatic Fibre Analyzer | Gerhardt | ELISA Reader | Biotek ELX800TS | Pellet hardness tester | Kahl |
| Automatic Fat Analyzer | Gerhardt | Phase Contrast Trinocular Microscope | Coslab | Sieve Shaker & Sieves | Electrolab EMS8 |
| Automatic Protein Analyzer | Gerhardt | Semi-Automatic Blood Biochemistry Analyzer | Rayto | Analytical balance | Radwag |
| Muffle Furnace | Cintex | Hot Air Oven | Cintex & Lab Equip | Precision balance | Radwag & Metler |
| Double Beam UV-VIS Spectrophotometer | Systonic | Laminar Air Flow | Lab Equip | IR Moisture Analyser | Radwag |
| Digital pH Meter | Eutech | BOD Incubator | Lab Equip | Digital Conductivity Meter | Labtronics |
| Centrifuge | Remi 12C | Cyclo Mixer | Remi CM101 | Digital Colony Counter | Labtronics |
| Autoclave | Lab Equip | Bio-safety Cabinet | Instrumentation India | Anaerobic Chamber | Himedia Mark V1 |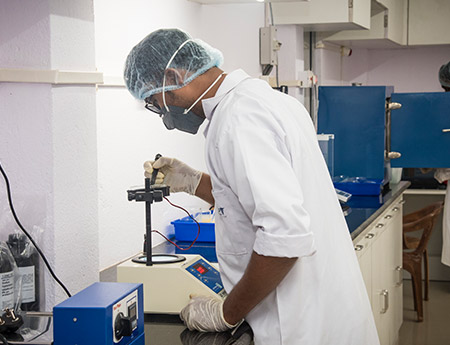 Agrivet Laboratories – Our Key Propositions
The service is conceptualised and executed by experienced veterinarians

Tests are conducted by technically qualified professionals

Reporting time – 2 hrs (for Proximate Analysis through NIR, after receiving the physical sample)

Minimum "Turn Around Time" for better responsiveness

Report comes with expert's observation and advice

Reports come with expert's observation and advice

Every report is inclusive of comments and observations post screening by subject matter specialists

Convenient online "Test Request Form"

Digital Report delivery through email/WhatsApp

Online payment option using Debit/Credit card
Agrivet Laboratories - Services

1. Microbiology and Parasitology:
Bacteria and mold culture

Agglutination test

Antibiotic sensitivity test

Feed & water hygiene test

Hatchery hygiene monitoring

2. Histology and Histopathology:

3. Biotechnology & Biochemistry:
Vaccine titer monitoring by ELISA

Toxin profile by ELISA

Haematological & Biochemical parameters by Auto Analyser

Photometric Assay by Spectrophotometer

4. NIR & Nutrition Lab:

5. Feed Testing Lab: